Image by Yorlanda Walls, Pink Tetris Designs.
---
Your Faithful Vote
As ballots arrive in households across Washington, we encourage you to get them in quickly. We will celebrate Vote Early Day next week on October 24 and urge you to submit your vote early to an official ballot box or via the U.S. Postal Service. In some areas of the state, ballot boxes are located in faith community parking lots. If you see people tampering with ballot boxes, please report it immediately.
Are you having a physically distanced and masked ballot party? Take a photo, we'll share it on social media! One group we know will be meeting up at their local farmers' market and marching down to the ballot box together.
Thank you to those of you who attended the candidate forums this week and prior, to hear where candidates are on issues impacting your community. There's one more candidate forum we are co-sponsoring this week, Wednesday 10/21, Secretary of State from 6:30-8 PM. Go to WAShouldVote.org to find the event links.
If your ballot doesn't arrive or to get registered, see the WA Secretary of State website.
For ideas about how to continue to Get Out the Vote, see Faith in Public Life toolkit, faithfuldemocracy.us, or your favorite GOTV coalition!
Approve R-90
The FAN Governing Board has endorsed R-90 for Safe and Healthy Youth on your ballot. This referendum would approve SB 5395 (Sen. Claire Wilson) passed by the 2020 Legislative Session which requires all public schools to teach age appropriate, comprehensive sexual health education to K-12 students. Faith leaders have shared their support in several op-eds, including Rev. Yvonne Agduyeng, Pastor of Seattle First United Methodist Church, on our FAN blog. Rev. Dr. Kelle Brown, Lead Pastor at Plymouth Church, is featured in this piece from Crosscut. And Aisha Hauser, President of the Liberal Religious Educators Association, has an op-ed in the South Seattle Emerald. Today the Tacoma News Tribune endorsed R90.  This is the fourth major newspaper to come out in support of comprehensive sex education for all Washington youth! The campaign has also been endorsed by the Seattle Times, The Columbian, and the Spokesman-Review!
Local and National Organizing to Protect a Free and Fair election
Starting this week, FAN's e-news will be publicizing local and national organizing efforts to protect a free and fair election on November 3. Please send us information about organizing in your area, and check our website for resources, trainings and events.
Virtual Action Hour, Sunday Oct. 18, 7pm, on Zoom to support a free and fair election, hosted by WA state environmental activists Lynn Fitz-Hugh and Alice Grendon. Register at this link. Join them to take action and begin preparation steps should a power grab be attempted, connecting with resources from existing coalitions such as the Protect the Results.
Beyond Marches and Rallies: How to Protect the Election, Sunday Oct. 18, 6:30-8pm. Seattle Fellowship of Reconciliation Zoom Program, with activist/author Rivera Sun, a trainer in strategy for nonviolent campaigns. More info here.
Other nonviolence training and resources for you:
Protect the Results https://protecttheresults.com/
Choose Democracy https://choosedemocracy.us/
East Point Peace Academy https://www.eastpointpeace.org
Hold the Line: A Guide to Defending Democracy https://holdthelineguide.com
---
Host a Virtual Table for Our Annual Dinner
We want to make sure you have all the information you need to register for FAN's Virtual Annual Dinner on Sunday, November 15. Just click on the registration link bit.ly/FANDinner2020–once we have your registration and email address, we'll keep you posted on the exciting developments!
The virtual nature of this year's event will enable us to connect statewide with more of our network than we ever could have done at our in-person dinners! We can celebrate the work we do for justice in the places we live with friends, members of our faith communities and organizations. We can commit to Rise Up Together in the work that will be ahead of us, whatever happens in the November election.
Be a Virtual Table Host! Click the box on your registration form, and then invite friends and colleagues to virtually join you. You can send them to our event page fanwa.org/annual-dinner where they can learn more about it and find the registration link. As a host, you will invite them to your own Zoom gathering room; if you don't have your own Zoom hosting account, you can co-host with another friend in your circle who does.
The first half hour (5:00-5:30pm) will be virtual social time all across our beautiful state! At 5:30pm, you will help everyone move into the main room to be together for our program. As a host, we'll send you a virtual packet in the next few weeks with tips for making it a great time and fun for your guests. We will also offer a Zoom host training before the event for those who would like that. We would like all participants to also register on the FAN event page, bit.ly/FANDinner2020 so they receive updates too.
We look forward to seeing you in one month, on November 15!
---
Faith Leaders' Support for Community & Technical Colleges Needed
We are part of building a strong coalition to support our Community and Technical Colleges (CTCs) that are so vital to racial equity, economic justice, and recovery from the recession in our state. If you are the leader of a faith community or organization, you still have time to show your support for CTCs by signing this petition by Friday, October 23, and sharing the link with faith leaders in your network. The Communities for Our Colleges Coalition which FAN is part of is calling for no cuts to CTCs in the state budget. Learn more and share this infographic flyer.
---
Mourning Into Unity, from WA State to Washington DC
This Monday, local vigils will take place all across our state, in solidarity with a national vigil in Washington DC, to remember and grieve the more than 218,000 who have died from COVID-19, and to strengthen our commitment to each other and our democracy. FAN organizer Zahra Roach is leading the Tri-Cities vigil at 6 PM at Howard Amon Park in Richland, with options to attend outdoors, in vehicles, or virtually. See the Facebook event and the flyer for more. In Seattle, First AME will host their second vigil of mourning and unity. United Church of Ferndale is also hosting an event in Ferndale, In DC, the vigil will take place in BLM Plaza. Following the vigil the Washington, DC host community, the Church of the Epiphany, will process from BLM Plaza to the White House with a length of purple fabric representing the total number of US COVID deaths as of mid-October.
---
Welcome New FAN Staff!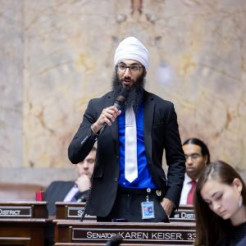 Jaspreet Singh, King County Regional Organizer, was born in Dubai and moved to Washington State in November of 2002. He completed his degree at the University of Washington in Politics, Philosophy, and Economics and has volunteered as a teacher, liaison, and mentor at Khalsa Gurmat Center since 2013. His passion for creating bridges is what drove him to join FAN and is currently doing part-time outreach in King County and representing FAN in coalition work. He is a practicing Sikh versed in Sikh history, literature, and teachings. Email Jaspreet at singh@fanwa.org.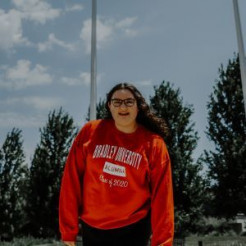 Victoria Phair, Social Work Practicum Student, is currently pursuing her Advanced Standing Master's in Social Work, with a concentration in Policy Practice at the University of Washington-Seattle. She received her Bachelor of Science in Sociology and Social Work, with a minor in Women's and Gender Studies from Bradley University this past May. She is originally from Indianapolis, Indiana, but moved to Seattle this summer for school. She is very excited to work with FAN and learn about its impact on Washington state. In her work with FAN, she will be focusing on policies and advocacy efforts centered on housing and homelessness. Email Victoria at phair@fanwa.org.