FAN features events about justice, peace and care for the environment across the state of Washington. Posting does not signify official endorsement by FAN.
30th Annual Seafair Pow Wow
July 14, 2017

-

July 16, 2017
"Through Our Culture we Shall Endure"
This year we celebrate our 30th year and are proud to continue supporting such a vital part of Seattle's vibrant cultural landscape
Come and celebrate with our family, reunite with old friends and make new ones! Enjoy fantastic food, music, and dance. All are welcome as we proudly share our culture at Daybreak Star Indian Cultural Center grounds.

July 14th – 16th, 2017 – at Daybreak Star Center- Discovery Park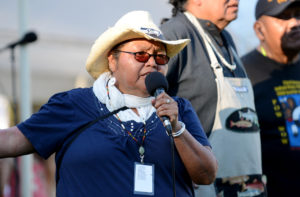 "It has been an honor to serve as co-chair for the Seafair Pow wow and I am grateful to be a part of Seattle's Urban Native community. Our Pow Wow is a perfect way to celebrate Seattle's rich diversity and to share our Native culture in a way that is welcoming, fun and safe.
– Pam Nason
Pow wow Schedule:
Friday Family Night – Free Admission – 4pm-10pm
Saturday – 10am-10pm
Sunday – 10am-8pm
Saturday SCHEDULE – Admission $5 (for 12 and older)
10am – Doors open
11am – Coastal Grand Entry
12pm – Pow wow Grand Entry
6pm – Coastal Grand Entry
7pm – Pow Wow Grand Entry
Sunday SCHEDULE – Admission $5 (for 12 and older)
10am – Doors open
12pm – Pow wow Grand Entry
2017 Head Staff: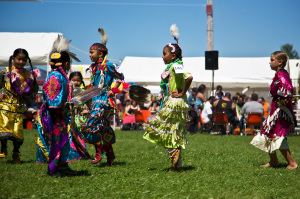 Emcee: Arlie Neskahi and Grant Timentwa
Arena Director: Rob Charles
Head Man: Sheldon Shebala
Head Woman: Paula Shebala
Seafair Princess: Lauren Galt
Seafair Warrior: Dimtri McDonald
Host Drum: 206 Drummers
Specials:

UIATF 30th Anniversary Special: Open to all women 30+
Bernie Whitebear Memorial Special: Open to all veterans, all categories. ($1000 total payout)
Randy Tulee Memorial Round Bustle Special:  Open to adult men dressed in the Northwest Round Bustle style. 1st: $1000, 2nd: $750, 3rd: $500.  Sponsored by the Tulee Family.
Head Man & Woman Sweetheart Special: Open to married couples 18+, all categories.  Sponsored by the Shebala family.
NAWDIM Honoring Native Babies Special:
The "Native American Women's Dialog on Infant Mortality" would like to honor new Native babies in  our American Indian/Alaska Native communities, inviting all babies born in the past year, and their     mothers to come into the circle.
Seafair Princess Special : Honoring graduates from College or High School
Seafair Warrior Special:  Teen Boy's Ironman Fancy Special.
About:
The Seafair Indian Days Pow Wow is a three day festival of Native American and Indigenous Culture it features traditional Native American and Alaskan Native and First Na tions drummers, dancers in traditional regalia, Native Food and Art. It is open to the public and shares Native cultures with all of Seattle. Over 15,000 attend the three day event.
The Seattle Indian Days Pow Wow is held annually by United Indians of All Tribes Foundation. It is traditionally held the third weekend in July, in conjuction with Seattle Seafair.
What to Expect at Seafair Pow Wow:
If you have never been to our Seafair Pow Wow, we welcome you and are excited that you are coming. Here are a few things you may want to know before you attend.
This is an outdoor Pow wow. We Pow Wow, come rain or shine! So please plan accordingly, whether it means bring your umbrella because of rain that day, or bring sunscreen because 80 degrees. We have bleachers seating, but it is limited, so feel free to bring your lawn, camping, chair, and/or blanket. We also have local Native artists selling authentic, hand crafted jewelry, arts and crafts and clothing. There will be food vendors, at our pow wow. Ever have Frybread? If not, then have one at our Seafair Pow wow, (it is fried dough, a delicious indulgent!) Good idea to bring cash, as some vendors do not accept credit cards.
There are standard protocols (guiding principles and expected behavior) dictating how the Pow Wow is conducted.  Learn more about protocols here.
FAQ's (Frequently Asked Questions) – Click link to see FAQ's